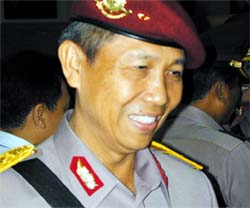 Gen. I Made Mangku Pastika, the chief investigator of Bali Bombings.
Although he's not an active part of any Indonesian special operation forces unit, Gen. Pastika success to track down and bring justice to the terrorists involved in Bali bombings amid political, domestic and international pressures is an achievement that Indonesian Police, and Indonesian people, can be proud of.
Gen. Pastika is placed here not because he's a part of Indonesian special forces, but because he's an Indonesian hero.